---
Questions? We're here to help
ORGANIZED CHAOS
OVERVIEW
Cardiopulmonary arrest is stressful enough for all involved. Crash cart and staff preparation in advance are variables we can control to try to improve our patient outcomes. 
OBJECTIVES OF THE PRESENTATION
This session will review how to put together a crash cart, what items, and medications to consider placing in them, along with crash cart checklist examples. We will also discuss team preparation, and how to make sure your team can confidently respond in the event of cardiac arrest. 
SUMMARY INCLUDING 5 KEY "TAKE HOME" POINTS
Control the variables that you CAN control for the best outcome

Crash cart maintenance should be a normal part of day-to-day operations

More is not always better when it comes to stocking a crash cart or box

Implementing a simple but thorough crash cart checklist can save time and place life-saving tools at hand when you need them

Engaging the whole team and prioritizing staff training can maximize utilization and optimize outcomes
INTUBATION VARIATIONS
OVERVIEW
Intubation is a core skill for emergency and anesthetic procedures. Nothing challenges this skill set more than having to do it sideways and in a hurry. Preparation and practice are key elements to confidently gaining airway access during cardiopulmonary arrest in canines and felines. 
OBJECTIVES OF THE PRESENTATION
In this session we will review canine, feline and small mammal anatomy and differing techniques for endotracheal intubation for both anesthetic procedures and CPR and examine how processes differ under different conditions. We will discuss different equipment and its application for this essential procedure to be executed effectively. Learners will apply these skills on cadavers.
SUMMARY INCLUDING 5 KEY "TAKE HOME" POINTS 
Being able to intubate in lateral recumbency is key to not interrupting chest compressions during CPR

Various types of endotracheal tubes and devices exist for use in mammals

Endotracheal intubation is a skill that is applied differently under different circumstances

Developing a consistent pattern of behavior for verifying placement is vital for success

Use of a laryngoscope is a key for successful airway examination and endotracheal intubation, especially in patients experiencing CPA
I IO. DO YOU IO?
OVERVIEW
Intraosseous (IO) catheter access is a fast and efficient way to deliver lifesaving medications and IV fluids. Placement of an IO catheter can appear intimidating and indelicate. Overcoming IO aversion can improve outcomes for patients when other venous access is impossible.
OBJECTIVES OF THE PRESENTATION
In this session we will discuss indications and contraindications for IO catheter placement, placement sites and techniques and IO catheter options. This session will help you to overcome IO aversion and prepare you to place IO catheters. The hands-on component of this lab will include placing IO catheters in laboratory specimens, including cadavers.
SUMMARY INCLUDING 5 KEY "TAKE HOME" POINTS
IO catheterization can offer quick venous access in severely compromised patients.

Technique for IO catheterization includes aseptic preparation.

IO catheter equipment can be as simple as a hypodermic needle or as sophisticated as an IO drill device.

Sites for IO catheter placement in avians are different than for mammals.

Any drug that can be given intravenously can be given by the intraosseous route.

IO catheterization is temporary.
RECOVER BLS AND ALS RESCUER CERTIFICATION
OVERVIEW
What is the best approach for animals experiencing cardiopulmonary arrest? Evidence-based veterinary CPR guidelines published by The RECOVER Initiative in 2012 aimed at determining how to maximize the chances of patient survival and led to the official veterinary CPR certification process approved by the American College of Veterinary Emergency and Critical Care. This certification process has an online course component and an in-person course component. Completion of the online course (BLS and ALS at recoverinitiative.org) is a prerequisite for participation.
OBJECTIVES OF THE PRESENTATION
Participants in this course will learn the concepts and techniques key to becoming Basic Life Support (BLS) and Advances Life Support (ALS) Certified Rescuers. These concepts will be reinforced through scenario-based simulations. Successful completion of this course grants participants certification as RECOVER BLS and ALS Rescuer
SUMMARY INCLUDING 5 KEY "TAKE HOME" POINTS
Evidence-based CPR standards and certification processes exist in both human and veterinary medicine

The RECOVER Initiative has established this official training course

Scenario-based simulations offer a hands-on, team approach to CPR

Quickly identifying arrest rhythms and acting appropriately can save valuable time

Adherence to the RECOVER CPR algorithm is a structured process designed for best patient outcomes
STAYING ALIVE, POST ARREST CARE
OVERVIEW
You have achieved ROSC, now what? Caring for your post arrest patient can present unique challenges. Despite 35-45 % ROSC rates, the survival to discharge for patients experiencing CPA is somewhere between 2-10%. There is not enough clinical research to support a definitive plan for post arrest care in all situations but there are some things we can consider for these patients that may increase their survival to discharge.
OBJECTIVES OF THE PRESENTATION
In this session we will explore the range of post cardiac arrest (PCA) considerations and how different nursing interventions and intensive care monitoring can be applied to the post arrest patients. This session will help you to develop a plan for your post arrest patients.
SUMMARY INCLUDING 5 KEY "TAKE HOME" POINTS
Post arrest patients present unique challenges.

The degree of considerations for PCA patients is complex and unique to each patient.

Evidence exists to support a post arrest framework.

Considering the potential causes for arrest is an important reflection.

Post Cardiac Arrest (PCA) patients require intense monitoring.

Specialty centers may provide optimal environments for addressing the most complex post arrest needs.
Hotel Accommodations and Travel
Viticus Group's official lodging partner is Courtyard Las Vegas Henderson/Green Valley. Special lodging discounts are available to participants attending courses at the Viticus Center.
Please make these arrangements once you have purchased your course by calling 702.434.4700 and be sure to mention that you are attending a course at the Viticus Center.
To make a reservation online with our discounted rate, please click here.
PACKING TIPS
- Scrubs are available upon your arrival if needed.
- Closed-toe shoes are required during labs.
- A light sweater for indoor areas.
- Plenty of sunscreen.
- Electronic charging device to power up.
- Valid ID - We highly recommend you carry your ID at all times in Las Vegas.
Courtyard Las Vegas Henderson/Green Valley
2800 North Green Valley Pkwy
Henderson, NV 89014
Toll-free: 702.434.4700

Courtyard Lodging + Travel Includes:

Airport Pick up: Available on request, 7 days a week starting at 6:00a and ending at 10:00p

Guests will need to call the hotel upon arrival (702.434.4700) after they pick up their luggage. At that time, they will be informed of the area they will be picked up and a shuttle driver will be sent by the hotel.

Airport drop-off: All drop-offs are every two hours, starting at 6:00a and ending at 10:00p. Please sign up at the front desk at least 1 hour prior to departing.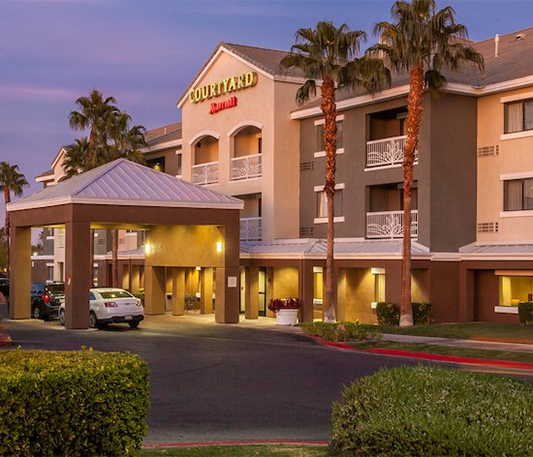 TRANSPORTATION
Viticus Group transportation includes shuttle pick-up at the Courtyard 45 minutes prior to the start of your course start time and a short ride to the Viticus Center. At the close of each day, our shuttle will take you back to the Hotel.

Last Day Transportation: Shuttle provided both to the airport, and back to the Hotel. (Luggage storage available on campus)

If you are a Las Vegas local, or are driving yourself to the course, please arrive to the Oquendo Campus 30 minutes before the start time.

** Please refer to the agenda and email updates for transportation times.**
---

Public transportation in Las Vegas is limited.
If you are staying somewhere other than our preferred partner, you will need to arrange for your transportation to and from the Viticus Center. If you are renting a car, Mandalay Bay, Luxor, and several other hotels on the strip may charge for parking. Other transportation options for getting around are taxi service, Uber and Lyft.